Purpose of the Dashboard
The dashboard gives you an overview of all relevant data and statistics at a glance. It helps you monitor your company's activities on the platform and provides insights into how your products are performing.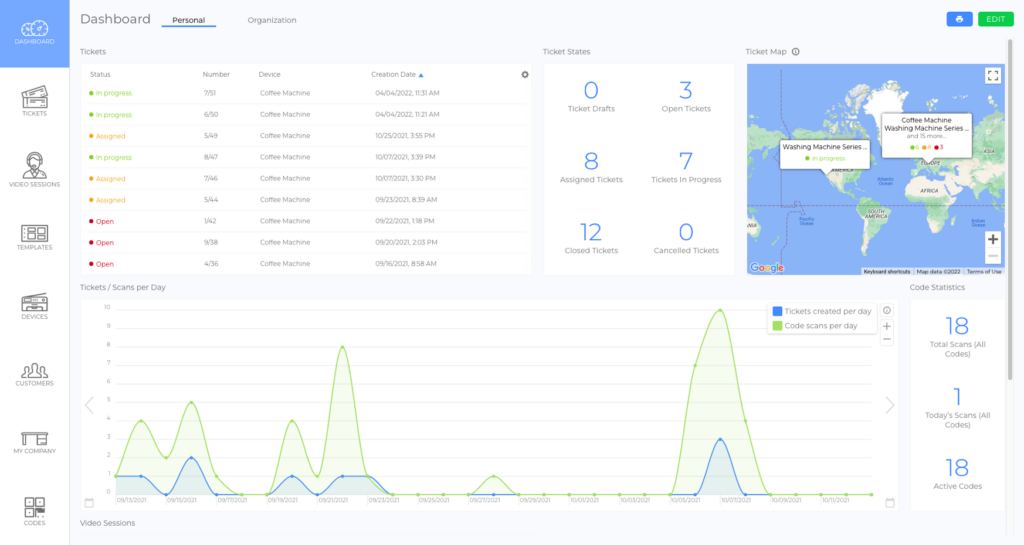 Personal & Organization Dashboard
Personal Dashboard: Can be customized by each user to their specific needs. Visible only to one user.
Organization Dashboard: Can be customized only by administrators. Visible to all users of an organization.
Dashboard Configuration
Since the KPIs (Key Performance Indicators) of most companies differ, the dashboard is designed in such a way that it can be configured individually. It consists of widgets, of which there are six different types. When putting together your dashboard, you may select predefined widgets or create custom widgets.
Widget Types
How to add Widgets
Select DASHBOARD from the side menu.
Click on EDIT.
Select +ADD WIDGET.
Either select a predefined widget or click on CREATE CUSTOM WIDGET.
Custom widgets only: From the list, select what information you want your new widget to display.
NOTE: Once the first item is selected, the list collapses to show only items that are compatible with that widget type.
Custom widgets only: Click on CREATE.
Click on SAVE.
Additional Configuration Options
While in edit mode, you can:
Widget-specific settings:
Printing the Dashboard
To print the dashboard, click the print icon (picture).
Note: If you use the Safari browser, the results may not be optimal. We recommend using the Chrome browser.
Was this article helpful?