The Company and its Mission
sqanit is a Munich-based software company founded in 2014 that offers a product with which companies can increase the satisfaction of their customers and at the same time reduce service costs. Through its platform, sqanit empowers end-users to solve minor problems themselves and enables service employees to support their customers faster and with greater confidence.
A sophisticated ticketing system and an AR video call feature facilitate uncomplicated and effective communication between all involved parties. This allows even complex issues to be resolved remotely.
The platform is accessed by simply scanning a QR code. There's no need to download or install an app. Therefore, support is available quickly and conveniently at any location, exactly when it is needed.
A QR Code as the Entry Point
Placed on a device it allows users to have access to information and support exactly when they need it.
An App that isn't one
After scanning a code, users find themselves on an interface that feels like an app without actually being one.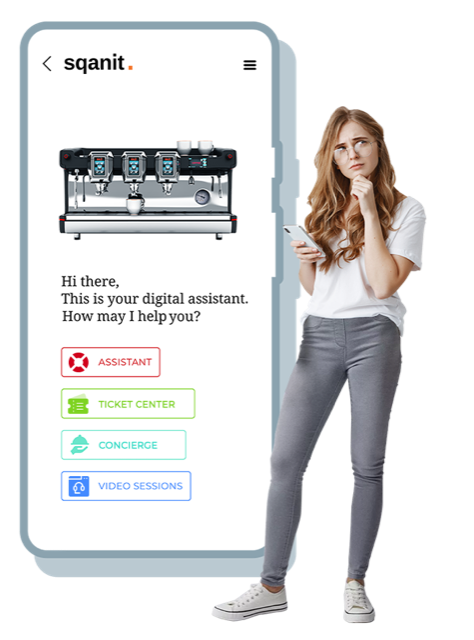 The Modules
Each module of this "progressive web app" helps users in its own way:
The Assistant: Instructions, manuals, or any other helpful information empower users to solve most issues themselves.

Ticketing: No call center, no waiting on hold, no closing hours! Users can create problem reports at any time and even add pictures and videos to better describe their cases. A direct communication channel is immediately created with a responsible service employee, who can provide remote help or collect additional information to prepare for an on-site assignment.

Video Sessions: Service employees can use this video chat module to remotely guide customers through problem-solving processes, step-by-step. Augmented reality (AR) functions, with which they can highlight and track important elements or even draw live on their customers' screens, help increase their success rate.

The Concierge: Links to external content, such as a company's online shop, can be placed at the users' fingertips.
Was this article helpful?