Purpose of the Devices Tab
The devices tab gives you an overview of all devices that your organization has created on the platform. You can filter from the list of all devices and switch to the Device Details View for more information on a device.
The Overview Tab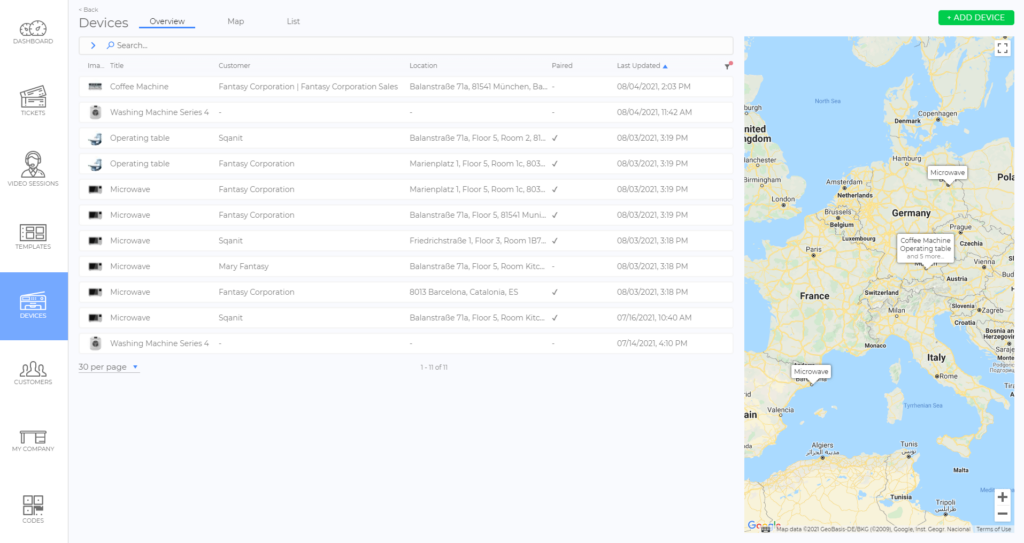 The devices tab contains the overview of all existing devices (picture). To the right of the list is a map. This map shows all the devices listed on the current page with their location. If you move to the next page, all the devices listed on that page will be displayed on the map.
Sort the devices in the overview tab
In the top row are various attributes that can help to sort the devices (picture), e.g., title, customer, location, etc. These device attributes can be customized to display information according to your needs.
Right-click on the top row.
A pop-up will appear and there the boxes of interest can be ticked. You can either adapt the attributes on a Custom base or an Organization base (picture).
Click SAVE and your adjustments will populate.
Filter the devices in the overview tab
Click on the arrow on the left in the search bar (picture).
A filter menu will appear, the devices displayed can be filtered by specifying the Last Updates, Area Search, and Other Filters.
CLOSE the menu. The filter criteria are saved automatically.
In this articel you can learn more about lists.
The Map Tab
In the map tab, the map that was originally displayed on the right of the overview page is expanded and displayed alone. On the map, you can see the locations of the devices that are currently on the list.
The List Tab
In this section, a list of all devices expands across the page, therefore hiding the map.
Add a device
In the back office, there are two options to add a new device.
Option 1: Via the +ADD DEVICE button in the devices tab (picture).
Option 2: Via the +CREATE DEVICE FROM THIS TEMPLATE button in the templates tab (picture).
Was this article helpful?